Orlando Florida Attractions!
An Icon of Family Fun!
The I-Drive Resort Area is home not only to 6 major theme parks but also to 16 additional attractions just perfect for a few hours of family fun. There's mini golf galore, go-karts, weird science, natural wonders, epic adventures, maritime disasters, miniature railroads… and that's just the first day!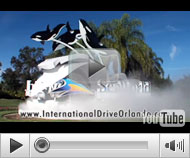 For an added adrenaline rush we also have some superb "Action Attractions" where you can skydive indoors, skate on a vert ramp, swim with dolphins or take to the sky in a chartered helicopter. This place rocks!
Other attractions and entertainment venues such as Pointe Orlando, Wonder Works, and Ripley's Believe It Or Not, are also located directly on International Drive. Other theme parks such as Walt Disney World Resort are found within minutes of International Drive.
Search
Use any or all of the following:
Attractions
Air Florida Helicopter Charters
Air Florida Helicopter Charters, Inc. has been operating a helicopter tour and charter company since 1995. Air Florida Helicopters operates a fleet of Robinson R44 Helicopters. These state of the art helicopters ensure exceptional visibility and panoramic views for all passengers.
Air Force Fun Helicopters Tours
Are you ready to see Orlando and its world famous attractions from another point of view? We're open DAILY from 9:30am to Sunset, no need for reservations! Let Air Force Fun give you an experience you won't forget!
America's Escape Game
OPENING EARLY 2015: America's Escape Game, Voted the #1 attraction for 2015, the escape game phenomenon has taken the world by storm for those seeking a new level of fun, excitement and intellectual challenge. AEG is revolutionizing the industry, taking the escape room attraction to a whole new level - super fun!
Aquatica SeaWorld's Waterpark
Aquatica is a whimsical, one-of-a-kind waterpark that only SeaWorld could bring you. Where rivers range from relaxing to racing. Slides that spin and soak you and our incredible signature ride – two awesome, enclosed tube slides that send you speeding through a lively lagoon filled with playful black and white Commerson's dolphins. It's where serene-to-extreme waters fill double wave pools, sun and shade cover the beach and fun is as endless as the sea.
CoCo Key Water Resort
Experience Orlando's first adventure-filled 54,000 sq. ft. canopy covered and outdoor water park. CoCo Key Water Resort features 14 water slides, zero-entry pool area offering fun for younger ones, teen pool, and interactive play island.
Congo River Golf - Universal
Orlando's most exciting adventure miniature golf. Take on our 18-hole challenging course and win prizes when you play our exploration game. Explore caves, waterfalls and our cool tropical setting, then feed our 25 live alligators!
Consumed by Art - Orlando
Consumed By Art is a one-of-a-kind, interactive art exhibit, seen through the lens of your camera, that puts you into the art.
CSI: The Experience
Do you have what it takes? Come find out at CSI: The Experience. Join forces with our team of investigators, and identify evidence at the scene of the crime. Using the latest in forensic scientific advances, put your investigative skills to the test!
Discovery Cove
Discovery Cove is an all-inclusive day resort experience that's one of a kind. Swim with dolphins, snorkel among colorful fish and rays in The Grand Reef, hand-feed tropical birds, come face-to-face with playful otters and curious marmosets in Freshwater Oasis and unwind on pristine beaches. Everything from snacks to meals, snorkels to sunscreen is included in this one-of-a-kind tropical escape.
Escapology
Orlando's premier escape game offers an exciting, unique and challenging experience. Teams of up to 5 players race against the clock to find clues, solve puzzles and escape the adventure game room within 60 minutes!
Fun Spot America
Family Fun with 2 new roller coasters, 250 ft. SkyCoaster, 4 multi-level go-kart tracks, 18 rides and 100 arcade games. Free admission. Free parking. Trolley stop #6. Named "Best Budget Attraction" by the Orlando Sentinel. Huge Fun!
Gator Golf
See Gatorzilla - Orlando's fiercest gator. Gatorzilla, gator shows, gator wrestling. Hundreds of live gators - and the world's most unique and challenging adventure miniature golf.

Hawaiian Rumble Adventure Golf
Family Fun! Hawaiian themed crazy golf. Two challenging 18 hole courses. Play both for $2.00 more. Enjoy food, snacks and cold tropical drinks from our café.
Hollywood Drive-In Golf
The two all-new, state-of-the-art 18-hole courses are unlike any other miniature golf experience. Inspired by the 1950's era, guests enter a classic drive-in theater box office area where they select either a "single-feature" (18-holes) or "double-feature" (36-holes) with a choice of two family friendly courses, "The Haunting of Ghostly Greens" and "Invaders From Planet Putt."
I-Drive NASCAR Kart Racing
Featuring a half-mile indoor track and environmentally friendly electric karts, powered by Sodikarts and capable of safely reaching speeds up to 45 miles per hour. Bowl at the facility's four-lane bowling café or visit an arcade complete with 60 state-of-the-art games. A full-service restaurant seats up to 80 patrons and serves an American-style menu, while more than 5,000 square feet of meeting space will cater to corporate audiences.
iFLY Orlando
Now everyone can fly! At IFLY Orando's Indoor Skydiving wind tunnel, you can experience the sensation of freefall without needing a parachute, plane, or any previous skydiving experience! The IFLY experience is so similar to real skydiving that professional skydivers use the wind tunnel for training; yet it's also safe enough for kids 3 years and up to enjoy! Free Observation Deck! Rain or shine!
International HeliTours
International HeliTours' helicopter flights are a favorite with Florida's tourists, families and their visiting friends and now International HeliTours is making it's mark with international visitors.

Established on International Drive, across from the Premium Outlet Mall, International HeliTours is committed in providing quality service, saftey and value for your money. Scenic flights begin for as little as $25.00. This unique service is accessible and affordable for the local community, visiting travelers and international tourists. Fun for everyone!


Lost Caverns Adventure Golf
Orlando's Newest Adventure Golf Attraction! We feature two exciting 18-hole courses, engaging on-course games and a state-of-the-art arcade.
Magical Midway
We know all the tricks when it coms to fun! Experience International Drive's exhilirating go-kart tracks, the Alpine Jump & Avalance at Orlando's newst attraction, test your skills on our fast tracks and enjoy midway games, rides.
OUR BODY: The Universe Within
OUR BODY: THE UNIVERSE WITHIN is a fascinating, artful and educational exhibit consisting of actual human bodies and organs. Appropriate for all ages, this exhibit literally goes "under the skin", revealing the mysteries of the human anatomy. The bodies, specimens and organs have been preserved using a process known as polymer impregnation. OUR BODY: THE UNIVERSE WITHIN allows you the insight to the inside: giving one a true look at the inner workings of the extraordinary human body.